8 Lessons Surfing for the First Time Has Taught Me
Several months ago I had a conversation with my sister that went like this:
Me: I'm going to try surfing in Baler or La Union!
Sis: Do you know how to swim now?
Me: No. But I won't die trying that's for sure.
Sis: *begins a&%*+$!… at me..
Me: *Zones out while imagining huge waves and myself surfing..
You get the picture.
Fast forward to November when I finally got the chance to spend a weekend in Baler. I knew it was the time and man, was I prepped.
I first had the chance to try surfing in Bagasbas a few years ago but I chickened out. You know, for the usual reasons, like I don't know how to swim, I wasn't prepared with an extra pair of contact lenses or my eyeglasses (more about that later) and the excuses went on. But it was something that I really wanted to try and since then surfing became a recurring item on my list.
I'm sure a lot of you can relate to the swimming part. Or some of you also have the same concerns if you can still wear your eyeglasses or contact lenses when you go surfing. Let me help clear the air for you.
I do not claim that this is a complete surfing guide for newbies but these are the observations of a total noob. If you are surfing for the first time, I'm pretty sure these observations can help you.
8 lessons surfing for the first time has taught me

1. It's good if you know how to swim but it is also okay if you don't.
This is a common myth. If you are a newbie and would like to try surfing then don't let others tell you that you can't just because you don't know how to swim.
Be open and tell your instructor upfront that you can't swim. The instructors in Baler are used to these cases and you might be surprised at how many students they've taught who are just like you.
The instructors usually choose a spot that is best for beginners. Although I know the waves can get huge at times, don't get too intimidated by it.
2. You will fall and fail countless times, but what's important is that you rise up and fall again trust that you make it right the next time.
Falling onto the waves can hurt. A lot. Beaches with good waves for surfing are usually with fine brown to black sands. If ever you fall you will be landing on fine and soft sand. The water is also very shallow even if it seems you are already far from the shore.
Tip: Test the waters before you decide to paddle out, the waves are big and strong but it won't mean you will fall in real deep.
The instructors are trained to be always beside their students and if in case you fall, you are assured they are there to make sure you are okay.
Another tip: If you lose balance, try to fall only on either side of the board, not towards the shore or behind. You risk the board crashing on you if you make the wrong fall.
3. Know when to listen and follow orders.
No matter how old (or young) your instructors are you have to listen to them well. They know the best spot and the waves that you can try as a beginner. Pay attention and follow when they tell you to stand, when to squat, lean forward and so on.
My instructor was a 23y/o guy and he was very attentive. My friends' instructors were ages 15 and 21.
4. Wardrobe malfunctions can happen anywhere.
Yes. At the beach. On a surfboard.
And if it does happen to you while surfing, you know you can't blame the waves. Because you'll look stupid. So know that you need to wear the right clothes.
The key is to wear something that is not too loose and not too tight. This is most especially important for women. Make sure you wear just the right fit to avoid slip-ups and accidental display of your privates.
There is a reason why we seldom see newbie surfers in bikinis. Unless you are sure that you won't fall off the board, then I guess it is okay to wear them.
5. Use the right gears.
You can rent your surfboard from the shops along the shore. That and a good, dependable suit are the only things you need. EXCEPT, if you wear eyeglasses. Ugh. It's a real pain if you can't see clearly when you go surfing. Of course, you have to take off your eyeglasses but if you are like me who wears contact lenses, you'd know that it is a lot more harmful to wear it while on the beach because it gets exposed to bacteria especially when you go swimming. Taking it off would render me half blind so it is not an option either.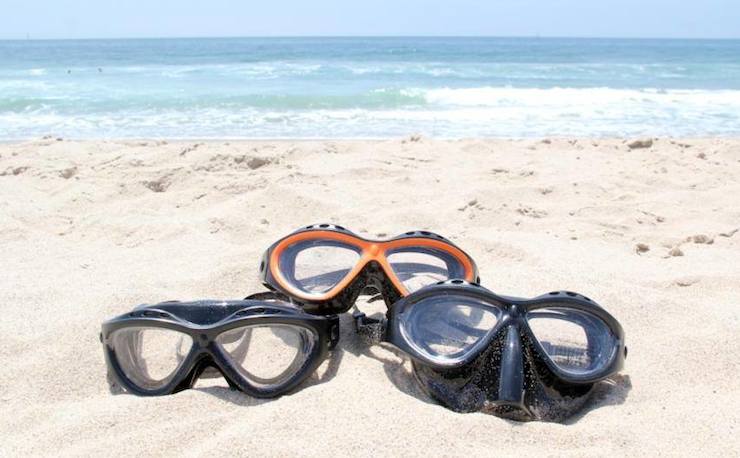 But if you badly want to try surfing with your contact lenses on I suggest you wear goggles. Some surf shops do have one for rent too but I find them rare. You might as well bring your own just to be sure.
6. CLAYGO.
Try to observe the people that you meet especially the locals. These are the people who most probably go surfing on a daily basis. For them, this activity has become a part of their lifestyle, while for some others it has become a form of livelihood. Respect them by cleaning after yourselves.
I also have to say that Baler was incredibly clean. We roamed around the city hall, museums and the local market and found that most places were spotless. And it was the same case at the beach.
READ: Surfing and Other Things to Do in Baler
7. Try and try until you get it.
Okay, you may have fallen off the board countless times or for some reason, your privates have decided to make it the moment for a public appearance (!!) but don't let that drag you off course. Breathe in, breathe out. KEEP CALM. Huhu.
Keep your eyes straight and your mind focused. You have a lot of time to cry and wallow in shame afterward- that is if you even remember it after you successfully reached the shore.
Tell yourself to give it one more try everytime you fall. After all, practice makes perfect. You can surf non-stop or choose to return here next time. Baler is only 6 hours away from Metro Manila which makes it easier to visit on a weekend.
8. Enjoy the experience.
No matter how many times you fail you have to remind yourself to just enjoy the moment. Being able to stand up on your board even for a few seconds is already a feat that calls for a celebration. Woohoo! At least that's how it felt to me.
Your muscles will ache or worse you'll feel sore the following day but hey, you tried something new! As they say, achievement unlocked! Your next surfing lessons will be a breeze.
---
Learn how to surf
Here are the basics of surfing that you have to remember:
Choose your spot. Let your instructor do this for you if you are surfing for the first time.
Lie down. Basically, you are to lie face down in the middle of the board. Your hands to the rails or the sides angled in a position as if you are about to do push-ups. This prepares you for when the instructor tells you to stand up.
Paddle. Use both arms to paddle and listen closely to your instructor.
Stand up. While looking ahead, push yourself up, slowly sweep your foot forward and keep your knees bent. You need to practice this on land because you have to maintain your position right in the middle of the board when you stand up. It is difficult to do this in the waters if you can't look down.
Keep your balance. Once you're able to stand up, try to keep that balance. Just look ahead and stay calm.
Surfing lessons in Baler start at Php350 per hour. This already includes the rent of a surfboard and the instructor's fee.
Read our travel guide to Baler and get the contact details of our instructor here.
---
Where to stay in Baler?
Playa Azul Hotel
We booked with Playa Azul that particular weekend and our stay was pleasant. The room was spacious with 1 double bed and 1 single bed at an overnight rate of Php2,800. I find that the overall service that we received from their staff was okay, they were very approachable and helpful. One thing we didn't like that much was the food at their restaurant at the ground floor. We found their breakfast set meals bland and overpriced for the quality.
Read a more detailed review of the hotel in our Baler itinerary post. You can also check room availability and rates here.
Other hotels that we considered booking but were either fullybooked or too expensive for our pockets:
Costa Pacifica Resort
Costa Pacifica is a really huge and beautiful resort just a few minutes away from the beach. Click on the photo to check room availability and rates on your travel dates.
Nalu Surf Camp
Nalu Surf Camp just looks really homey and you can choose villas with an ocean view! Rates start at Php2,000. Click on the image to check room availability.
---
There are also budget-friendly transient houses or hostels near Sabang beach. You can actually book a room for as low as Php300 a night. Here are some of them:
The Circle Hostel Baler

The Circle Hostel is a chain of budget-friendly eco-hostels and can be found in famous surfing spots in Luzon. You can find them in Zambales, La Union, and Baler. They are known for their homey ambiance, colorful interiors and just the pure chill vibes. Hammocks and dorm rooms are available for Php300 a night. Check out more photos and room rates by clicking on the photo.
Nina's Transient House
Nina's Transient House offers basic room accommodations at a very reasonable price. You can easily get a quad room for Php500 each person or less! Click on the photo to check room availability and rates.
---
Do you have plans to go surfing for the first time? Or have you already tried it? How was the experience? Share your thoughts in the comments section!
Have an awesome time surfing! 🙂
Like this post? Please share by clicking the social icons below.