Airbnb: Mertola's Villas in Batangas
Updated: January 2018
Time flies! Or did I just hibernate? I can't believe it's been a month since the last post! Anyhoo, I'm back with a new post that I'm sure nature lovers will err, love.
The Juanderers have been away, well, not really far away since we've been on a staycation that was only about 2 hours away from the Metro. A place for nature lovers that is just 2 hours away? No way! But yes, there is such a place.
We found a nature lover's piece of paradise in Mertola's villas in Batangas and it comes with a lovely view of Taal Lake. I'll list the other reasons why we found this place endearing in a short while.
Mertola's is a family-owned farm resort in Alitagtag, Batangas. They are far from the main road but they are easy to find because they are in Waze. Simply key in the address then voila, Waze will take care of you.
We came across the listing at Airbnb and immediately booked it thinking it gets fully booked quite easily. The rate is $70/night for two guests and a third guest is for free, but there is additional $25 per head after the 3rd guest. For around Php3,500 a family of three can already have this private property all to themselves overnight. They have a total of 4 rooms and they accept up to 10 guests.
Our overnight booking comes with a complimentary breakfast, free use of all amenities including the kiddie pool, kitchen, view deck, dining area, grillers, hammocks, bonfire area, badminton rackets and all rooms. A one-hour massage is optional.
Being the corporate slaves that we are and thriving in a corporate jungle everyday, we totally loved the place the moment that we laid eyes on it. It was quiet, relaxing and the view of Taal Lake was absolutely stunning.
For once we were not surrounded by sky high buildings but instead found ourselves in the middle of lush greens, some blues and colorful flowers that you can find almost anywhere in the resort. It's one of those places where you can recharge, disconnect with your gadgets and bond with loved ones.
There are 4 rooms in total. The two bigger ones are nearer the main entrance and the kitchen. It comes with a small kitchen on its own and a toilet and bath. It is ideal for families or bigger groups.
The other 2 smaller rooms are right at the view deck and dining area. Tip: These rooms give you the best view of Taal Lake. If waking up early in the morning is such a task, then I'm sure it will not be the same case here.
There's the view deck/dining area. There are two rooms below and these rooms have the best view of the lake!
The pathways are also worth mentioning. Lol. Nothing really special about it though it seemed that they were carefully planned to create a good track for early morning runs or jogging. These pathways are not straight and flat. There are steps and you kind of climb up hills which makes it good for your morning exercise.
See that pathway beyond the pool? And the trees there. It's the best place to break a sweat and run. No pollution, just fresh air, and the quiet well- some birds chirping, plus the mild breeze from the lake.
Bring your own food when you go or drop by the marketplace before checking-in to buy your stuff. I suggest preparing everything beforehand because it's quite a hassle to go out once you arrive at the property. You can cook there (there's a fully equipped kitchen and grillers that you can use) or have the staff prepare everything for you.
Their complimentary breakfast is heavy but you can tell them ahead if you have requests or if you need special arrangements. Of course, breakfast is served with kapeng barako. 🙂
Mertola's has a big pool though it is just for kids. I think it was barely 4 feet deep. *Sigh of disappointment. But it's rare to find a big kiddie pool, so the kids loved it. All good still.
A few more recommendations:
Bring mosquito repellent lotion or spray.
Go for a 1-hour massage. It costs Php600 if I remember right.
Use the bonfire and eat your molten mallows by the fire.
Bring a good book or board games if you're coming with a big group.
The rooms at the view deck only have a shower. You will have to use the public restroom a few steps outside the room.
Preserve the memories by taking photos. The place is beautiful that even the broken bench by the lake can still make the cut in your Instagram feed.
Where to find Mertola's Villas?
Mertola's Villas
Alitagtag, Batangas, Philippines
Click on the arrow to get directions. If you have Waze you can search for Mertola in Alitagtag Batangas and the directions will show.
Book with Mertola's Villas and earn your first travel credit when you register with Airbnb.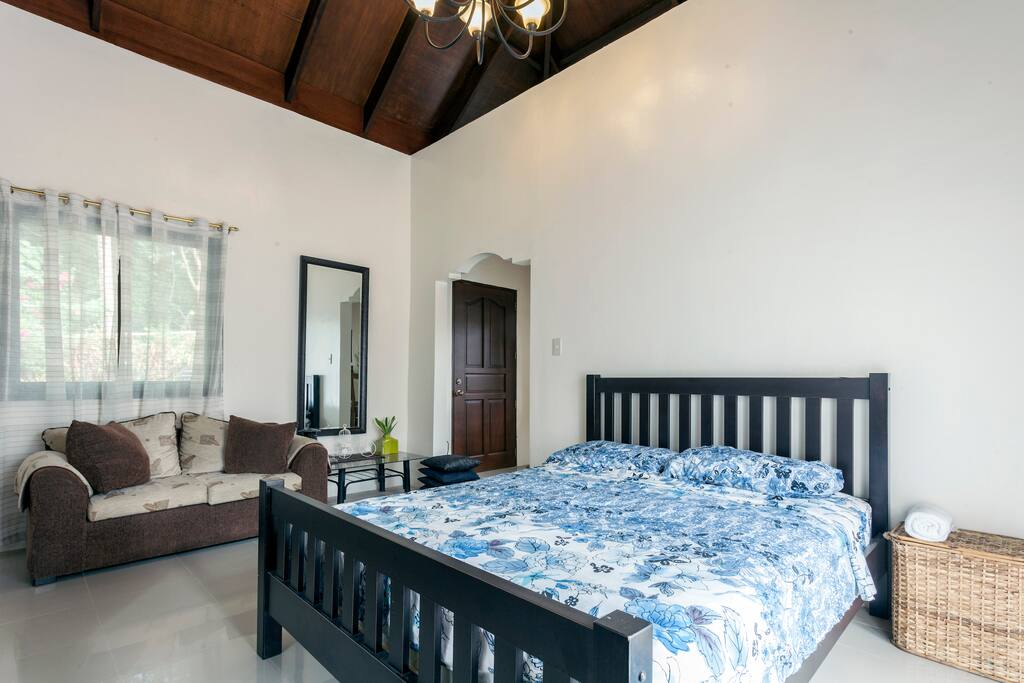 EDIT: January 2018 (Originally posted on September 17, 2017)
Went back to Mertola's Villas in January and I must say there were tremendous improvements in their villas. There's a new villa, that is so far the biggest villa in the whole property and it also has its own view deck. We have also tried a few of their services in order for us to gauge the quality and review them here.
The new villa
This newly constructed villa stands on the edge of a small cliff overlooking Taal lake and volcano. It's a majestic view that you will wake up to when you stay here. There are four bedrooms facing the lake, all of them have access to a balcony where you can savour in the views of the sunrise although the windows in the room are floor-length it also gives you an unobstructed view.
The new villa is designed in a way where you can further divide the house into two separate villas. Right in the middle is a divider that you can pull in if you want more privacy. Each side of the villa has its own living room with flat screen TV and couch (also convertible to a bed for an extra guest), 2 bedrooms, one toilet and bath, and a kitchen that is equipped with a microwave oven, a fridge, and complete set of utensils.
As the villas are quite far from each other, you can expect that there is no stable wireless internet connection installed. We were provided a pocket wi-fi when we requested for it but the signal is also unreliable. Smart and Globe networks have very weak signal reception here. This is either good or bad to some but I personally prefer to "disconnect" every once in a while so the lack of internet connection wasn't too much of a concern to me.
Massage and cooking services
We also had the chance to try their service massage that costs Php600 per person. This is quite a reasonable price for over an hour long, full body massage and because the masseuse is a certified one. Plus points too on the venue and setup of their massage beds.
Another service that you need to try when you visit is the cooking service of their staff, Ariel and Glenn. They just cook the best Adobo! My companions were very satisfied with the food that was served in each meal. You may ask them how much they charge for each dish or meal, but they do not really charge for their service, it is up to you. We bought everything in the nearest market before arriving at Mertola's since I knew there are no stores nearby.
Other personal touches
In the morning of our second day we had the chance to meet the owner, Sir Vic. He welcomed us warmly in his home and even had the time to chat with some of us about his humble beginnings. He came from the airport very early that morning then he just decided to go to his home in Batangas.
Later that morning I found him in the kitchen cooking pancakes for the kids while Ariel was cooking the usual breakfast for the guests. I thought it was really thoughtful! He cooked for us despite being up so early and after traveling for hours. Sir Vic also left us yummy "suman" which my mother loved. These little personal touches were what made our stay even more memorable.
Booking Mertola's Villas
According to the owner, he can sometimes accept 2 or more groups if there are lesser heads per group. The new villa alone can accommodate 10 to 15 persons. But if you are booking the new villa with a big group, then Sir Vic already makes it exclusive for you. It was the case for us since we were 13 in the group.
You can book them in Airbnb. If you haven't signed-up yet, you can use this link to register and receive $22 OFF your first booking.
Have fun!