The Most Beautiful Beaches in Palawan
The Philippine government's announcement last month on the temporary closure and rehabilitation of Boracay island was met with applause and controversy from different groups. Boracay, being the most popular island in the country, with its lively night scene, various water activities, and gleaming white sand was visited by over 2 million tourists in the past year alone. While I totally support the decision, we also know that we are bound to lose both revenue and visitors in the 6-month rehabilitation. Airlines have scaled down their flights to Caticlan and Kalibo. Tourists who had plans to visit the island will have to cancel or transfer their flights.
The good news is, for those who have plans to visit the Philippines, you have an awful lot of other equally beautiful destinations to visit instead of Boracay. The Philippines has over 7,000 islands (7,641 to be exact) that choosing where to go can sometimes get confusing. Only around 2000 islands are inhabited and that leaves the other smaller islands untouched and yet to be explored.
Our home country also hosts one of the world's best islands that was declared by Conde Nast in 2016 and has some of the UNESCO World Heritage Sites, the Underground River and Tubbataha Reef Marine Sanctuary.
Both of these UNESCO World Heritage Sites and Conde Nast's best islands can be found in Palawan, an archipelagic province that is also known as the Philippines' last frontier. In this post, we have rounded up the best beaches that you can visit in the different areas of Palawan mainly, the capital city of Puerto Princesa, El Nido, Coron, San Vicente and Balabac. Dive in and take your pick!
Puerto Princesa
1 | Sabang beach
Known as "the gateway to the Underground River," tourists usually find themselves in Sabang on their way to the renowned UNESCO Heritage Site. The beach of this coastal town offers various activities like kayaking and snorkeling on its nearby islands when you go island hopping. If you're into bird watching, you can also go on a mangrove tour where boat guides will point you to where the rare birds are and even snakes.
Related read: Puerto Princesa Underground River Tour
2 | Honda Bay
The beaches in Honda Bay offer a unique island hopping in its own. Pambato reef is touted by local tourism as the "mini tubbataha reef" where you can see the rich marine life when you snorkel. If you are not exactly comfortable with snorkeling then Snake island might suit you better. Here fishes are found in shallow waters near the shore. A Honda Bay tour can be arranged at your hotel or with a local travel agency.
Related read: Honda Bay Tour
3 | Nagtabon beach
Not too many people know of this beach in Puerto Princesa if we look to a few years back. Like the rest of the other "undiscovered" beaches, Nagtabon is slowly becoming popular to tourists with its clear waters and fine sand. Go here if you don't like highly-commercialized beaches. Nagtabon can be reached in less than an hour from Puerto Princesa. Just be ready with food, drinks and other important supplies when you visit.
El Nido
1 | Nacpan-Calitang Twin Beaches
Roughly an hour away from the town is twin beaches called Nacpan and Calitang. Of all the islands we visited in El Nido, this is where I have enjoyed the most. We had the beach all to ourselves during our visit so we spent the whole afternoon there. Nacpan has a wide stretch of fine, white sands and calm, crystal clear waters. Calitang on the other hand, has light brown sands and equally clean waters though this is typically where small boats dock.
2 | Marimegmeg Beach
Many are saying that sunrises and sunsets in Marimegmeg are spectacular and I was lucky enough to experience it once. If you prefer to stay outside of town and don't have the budget to afford the high-end private islands of El Nido, then Corong-Corong is a good option. There are already many accommodation options fronting Marimegmeg beach where the water is a clean shade of turquoise and small, gentle waves. And if you are a fan of the majestic rising and setting sun, this beach will not disappoint.
3 | El Nido Island Hopping
Get to know the reason behind calling El Nido as a tropical paradise by going on an island hopping tour. Each island destination in the tour offers a mix of gleaming fine sands, clear blue waters, secret lagoons and limestone cliffs. The tours are categorized into 4 groups but the most popular are tours a and c.
Related: El Nido on a Budget
4 | Amanpulo and other private islands
This one belongs to the high-end private islands in El Nido. You get here by private plane that tour agencies can arrange for you. Other private resorts are Lagen island and Pangulasian island resorts.
Coron, Busuanga
1 | Banol Beach
Easily one of the crowd's favorites, Banol beach (also sometimes spelled as Banul) offers a real pretty sight with fine white sand and turquoise clear water. It's a small island and tour guides usually stop here for lunch but you can also visit a popular diving spot here called the Skeleton Wreck. Banol Beach is part of a full-day tour in Coron. The tour also includes CYC or Coron Youth Club beach.
2 | Malcapuya Island
Visiting Malcapuya will also allow you to visit its nearby islands, Banana and Bulog Dos islands. Unlike the other island tour, this one is already more developed and made accessible with basic commodities made available in the island, massage services, and you can even stay overnight in Malcapuya.
The next two on the list are more on the off-the-beaten path type. They are harder to reach and still "untouched" by commercialism but nonetheless these two destinations in Palawan are slowly beginning to attract adventurous tourists and create a name on its own. You'll see why in the following photos.
Long Beach, San Vicente
Dubbed by the local tourism as the longest white beach in the Philippines, the Long Beach of San Vicente stretches out to 14 kilometers of white sand and undeveloped shoreline. Not too many tourists visit here and it is easy to feel that you "own" the island when you are the only ones there.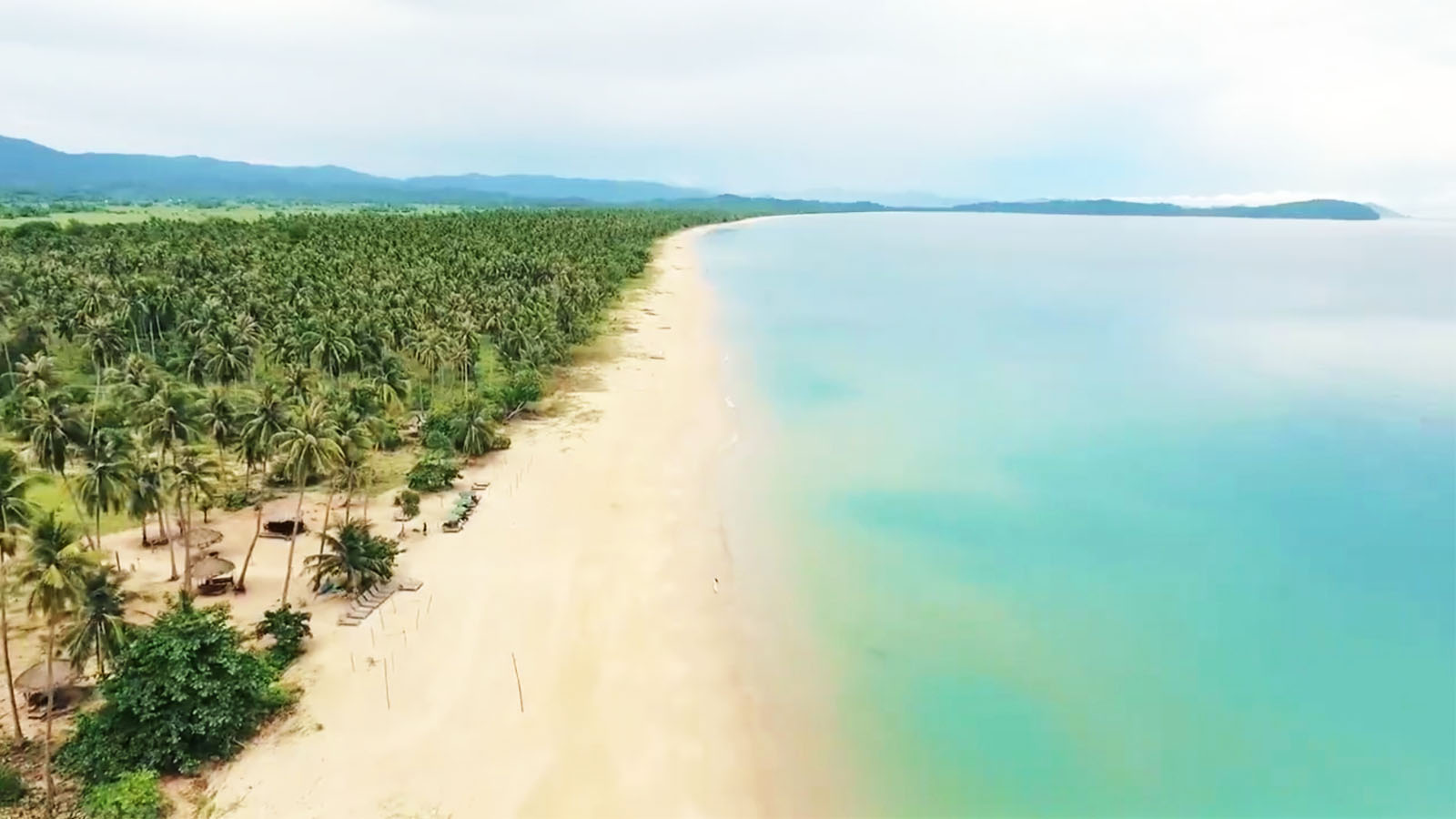 Balabac Islands, Balabac
The remote islands of Balabac is located in the southeastern tip of Palawan. Going there will take you a full day of travel from the capital Puerto Princesa but the trip will be worth it once you see the white sands and pristine waters. The popular islands to visit are Camiaran island, Bugsuk, Sicsican and Onuk islands. Don't limit yourselves to these though, there are over 30 islands and islets in Balabac that you can explore.
Fun fact: The neighboring country, Malaysia, is much closer to Balabac than Puerto Princesa that you can already find Malaysian consumer products in the island.
How to get to Palawan
There are currently four airports in the province: Puerto Princesa International Airport, El Nido Airport, Cesar Lim Rodriguez Airport (in Taytay), and Francisco Reyes Airport (in Busuanga).
Most flights to the province come from Manila via the local airlines, Philippine Airlines, Air Asia and Cebu Pacific. These airlines have flights to Puerto Princesa everyday and travel time takes 1 hour and 15 minutes.
If you wish to go direct to El Nido, there are flights from Manila but it will cost around Php7,000 per way. You can check out AirSWIFT for the rates and schedules. But if you are tight on the budget you can go with the more popular route that is to take a flight to Puerto Princesa then take the bus or van to El Nido. Land travel will take about 6-7 hours.
Supporting Local
When you go on a tour of these islands, you will be joined most definitely by local tour guides who are also fishermen, students, and residents of the island. By availing of a tour service you not only help keep the local tourism alive but you also help keep their kids in school and provide food for their families. Some of them rely solely on tourism as their livelihood.
At one point, I had a local tour guide in Puerto Princesa that was also finishing his studies as a Mechanical Engineer. He tells me that his salary as a part-time tour guide pays for his tuition. Young as he was at the time, I was already surprised by the hard work and dedication that he puts in.
By choosing to visit our islands you also choose to help small businesses, entrepreneurs and local artisans. And that is one of the many reasons why we love and promote tourism. So if you're looking for a bit of a paradise on earth, why not visit these islands in the Philippines? Palawan is just one of your many options but it also makes a good starting point for when you decide to make your journey across the other islands in the country.
I hope that this post have in one way or another helped you plan your trip. If you need more help, you can check out more of the best vacation packages in the Philippines here.
Do you know other must-see beaches in Palawan? Share them below!